Looking for a place to stay? Book any of our four beachfront bungalows for you next vacation. All of our guests will receive a special package designed to give you an exclusive experience that only us locals can show you. From chauffeured services to exclusive activities to the best places to enjoy while you are here.
The SeaEsta Bungalow
SeaEsta is 576 sq ft bungalow that sits 4 1/2 feet above the sand. Fully air conditioned, with a fully functioning kitchen. The two queen sized beds allow great flexibility for families or great friends to enjoy. In-suite bathroom with large shower.
Guest access
---
The SeaClusion Bungalow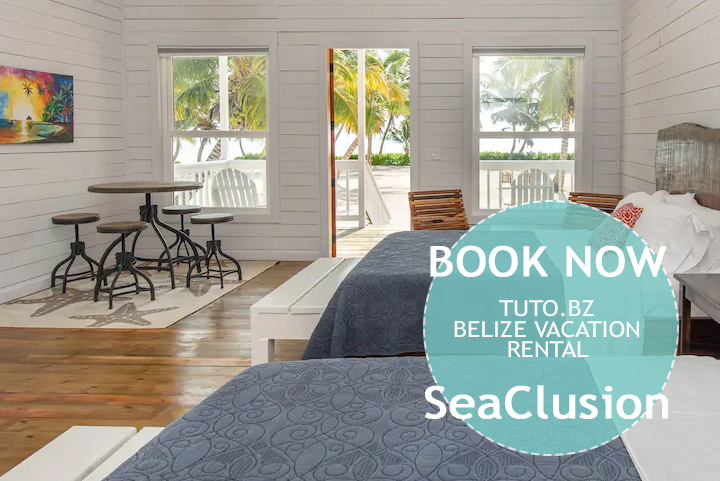 SeaClusion casita features 2 queen size beds with solid mahgony wood headboards that was found by George and he had it made into a custom made headboards specifically for this home. The artwork showcased in this Bungalow is from a dear family friend here on the island. Our kitchen cabinets were custom designed by a local artisan and interior designer.
Guest access
Book the SeaClusion @ TUTO Now
---
The SeaRenity Bungalow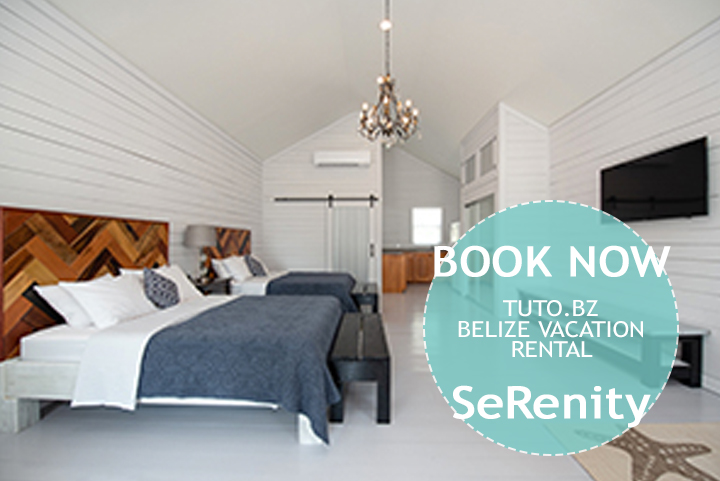 SeaRenity is a 576 sq ft open floor bungalow has 2 queen beds, fully functioning kitchen with dining area facing the east, its large front balcony overlooks the Carribean Sea and Barrier reef, and a large in-suite bathroom. This bungalow can accommodate 2-4 people comfortably.
Guest access
---
The SeaLaVie Bungalow
SeaLaVie features original artwork and woodwork from local San Padro artisans showcasing our rich heritage and Carribean culture. Relax on the front porch with views of blue waters or pick up any of our ripe coconuts for a very refreshing drink. This bungalow is surrounded by coconut trees with breath taking views of the Sea. Accommodations includes 2 queen beds, fully functioning kitchen with dining area facing the east, its large front balcony overlooks the Carribean Sea and Barrier reef, and a large in-suite bathroom. This bungalow can accommodate up to 4 adults.
Guest access
Trip Protection
TUTO recommends that you purchase a travel protection plan to help protect you and your travel investment against the unexpected.
View travel protection plans
Reviews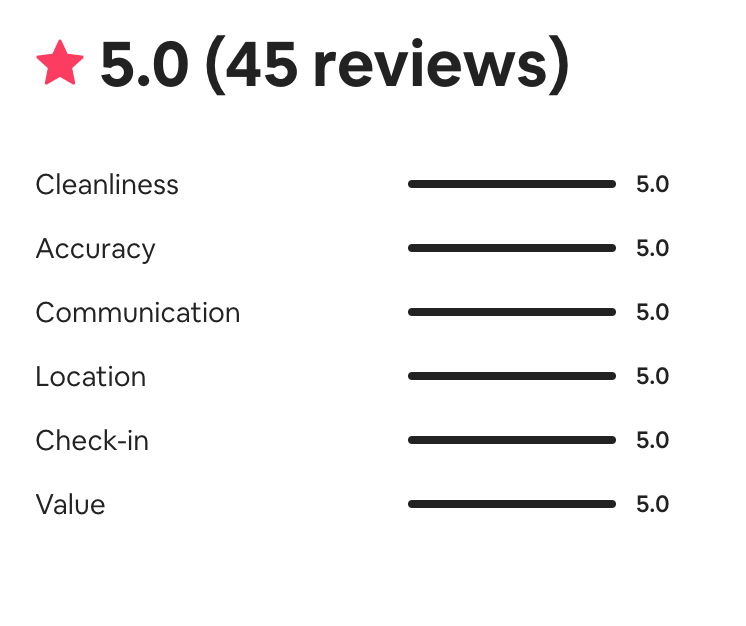 I can't begin to express how much we loved Tuto! This was our first trip out of the country since COVID hit, so naturally we were a bit nervous. George was so helpful every step of the way to prepare us for what we needed, what to expect at the airport, and how to navigate any issue that might arise. From the moment we landed, we were directed to our golf cart, grocery store, and led north to the property. You will feel like you are driving for some time, but know that it is worth it! George's staff on site, Edith and Junior, were beyond amazing, and we were so grateful for them. The property is perfection. It's private, quiet, beautiful. This spot is perfect for those that like the escape from the bustle of town. We had no issues taking the golf cart about 20-30 minutes to restaurants, the secret beach, or anywhere else on the island. I will be jealous of you sitting on your porch or the dock drinking your coffee or wine (or both!) and taking in the beauty and peace of this property! And give Solin (the dog on site) a big hug for me.
Tuto is a beautiful secluded paradise. You can kayak out to the reef and snorkel to your heart's content, drive into town or head out on excursions, or just lounge and read books. The privacy is very nice, trip into town is somewhat long 30-35 minutes, so grab things for a couple days if you want to have no agenda. George, Junior, and Edith were wonderful and provided us with excursions, fresh coconut water daily, local knowledge...whatever we requested or wanted to know about. We extended our trip quite a few days just to enjoy it more. I read all the reviews before I got here, which said this was the best place to stay in Ambergris Caye, and I believe they were spot on. I will never stay anywhere else while in Belize. Stay at Tuto's!
We thoroughly enjoyed our stay at Tuto! The location and views are completely gorgeous. It was great to be isolated and have a beach right out front of where you are staying because most places on the island have bulkheads at the shore. The mini home was bigger than it seemed from the pictures and very comfortable. Junior and Edith, our onsite hosts, were so wonderful and made us feel at home. We had an amazing snorkeling experience right out front of the Tuto beach where we saw a nurse shark and stingray in less than 5 feet of water. George, the owner, was very responsive and provided a lot of thoughtful information before we arrived. I would definitely recommend having him arrange your golf cart rental as the rental liaison met us at the airport, showed us around town some, and escorted us out to the property the first time. My husband and I both arrange that we will be back in the future! The island was amazing, the scuba diving was great, and we found some really great places to eat. The island has so much to offer!
George's place is a wonderful experience. He helped us with any questions and even arranged for a golf cart to be waiting at the pier when we arrived. Cannot recommend it enough and would definitely stay again!
I'm not sure where to begin about George's place. Honestly I don't want to even tell you how spectacular it is because I want to keep it a secret and all to myself. :) But really, from the very beginning George was very prompt at communication and planning for all of our needs . He is from the area and is very acquainted with everyone on the island and what the best way to get around is and what the best things to do are. From when our plane with Maya Air was pushed to an earlier time he was able to accommodate our early arrival and had our golf cart waiting at the airport. This was our first trip to San Pedro and I wasn't sure what to expect. We arrived in the middle of carnival and it was so chaotic downtown and I was praying it would be calm at George's place. I will admit the 40ish minute ride out of town with our luggage on a golf cart seemed like "what have I gotten myself into," but once we turned into the gate at George's place I was immediately relieved and in awe of the beauty. Tuto is in a class of its own. The place is immaculate and stunning. George's crew that work the grounds are some of the nicest people I have ever come across in my travels. Junior and his father worked every day to keep the grounds spotless, but anytime we wanted to fish off the dock or wanted coconut water he stopped and helped us. Edith the housekeeper was the best too, she was in and out of the casita like she was never there, but everything was made back up to perfection. The little dog that walks around the plantation is extremely sweet and never bothered us. It was entertaining to watch him bounce around the beach. On top of the amazing amenities George arranged all of our outings for us too. Fishing and snorkeling, we were picked right up from the dock. Once we arrived at Tuto we never went back to the town of San Pedro. We hit all the local restaurants and went to the truck stop one evening but everything you need is at tuto. If I could just say one thing, Trust George... do what he suggest to you. He will not lead you wrong. We enjoyed our trip fishing and you must do the bbq (the food is amazing). Go to Portofino for dinner on the boat. Get your snacks and groceries on the way in to Tuto (yes it will be a crazy bumpy ride with groceries and luggage...just be patient it will be worth it). Don't pack much as all you need is a bathing suit and some shorts and maybe a light jacket and flip flops. Go to the truck stop and eat and play games and in the morning go to Marbucks for coffee and scones. George provides coffee, filters, sugar, tea, water, jellies, oil, salt pepper, paper towels, and toilet paper, shampoo, soap, hair dryer, towels as well as beach towels and plenty of board games to play on the beach. Seriously if you do not book this place you are making a huge mistake. It is wonderful! George and his crew are the best!